I'm still buzzing from all the Olympics action we have been privileged to see recently.
People stretching every sinew of their body for that elusive and hard fought honour, an Olympic medal. A chance to say there were the best in the world. Great honour in representing their country, whether they win or now. Years of training, pushing themselves to the limit of their bodies and stretching what is humanly possible.
Contrast that with the current state of professional football.
As we approach the start of the football season proper there is no realistic chance of anybody outside the top four spending clubs of winning anything, across Europe. Players are on multi-million pound contracts and even average players are taking home handsome wages. When called up for their country a lot of players hesitate or pull out of playing 'due to injury'. National success in English football is a forlorn hope.
Let's face it football has lost its soul. It's a different game from when I was young. Stood on the terraces with smoke getting blown in your face, bad food and a crowd surge on each attack. OK so maybe some things have changed for the better! But I believe that sport should remain as pure, for that read accessible, as possible to encourage participation. When I was young I dreamt that maybe I could play for my team and, while unlikely, it was much more likely that it is today.
If I practice hard at golf I could, possibly, qualify for a tournament as a amateur. If not I can book a round at a famous course and putt out an imaginary round on the 18th like my golfing heroes. If I step on a football pitch I'll get bundled to the floor and banned from the stadium.
If football is to retain it's honour and privilege as a sport they I think it needs to re-attach itself to it's supporters. It feels a little too distant to me now. When I watched my club in the lower leagues I actually really enjoyed it, it felt 'real' again. Now they are back in the premiership I approach the season with a resigned acceptance that if we are lucky we may win escape relegation and win at tops a dozen games. Yes I'll get to see some top class football, but what does that mean for the 'rest of us' in the football / premier league. I don't know, I'm doing a bit of soul searching.
However you can dispute the fact that sports is driven by money. Even the feats at the Olympics couldn't have been achieved without funding. In Atlanta 96, team GB got one gold. A year later national lottery funding kicked in and in London 2012 the medal tally has gone through the roof. It seems even in more 'pure' sports, money talks. But at least the motivation to achieve is not overwhelmed my monetary reward. Few 2012 medalists will earn anywhere near as much in their career as in other sports.
So money buys success, whichever sport you are in, I don't think there is a way of avoiding it!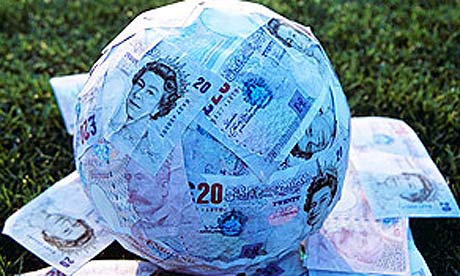 Category: Football / Soccer, General