I'm a strong advocate of not betting / trading on your own team when watching a sport. I like to have a reasoned logical approach to things and trying to place a position on a team that you follow can seriously mess up your head and result in taking positions in hope rather than for a profit. So therefore I don't bet or trade on teams I follow.
However, there is one time though where I do tend to have a little side bet. This is where my trading head pops up and gives me some scope to save my nerves. I'll tend to have a bet when I want to hedge a good 'on field' position. By that I mean my team is winning and I want to hedge that position out. That's about the only time I'll dip into the market on my own team. I do it for fun, no money, but here is the logic: -
I would pay a little bit more to see my team win, but I'll get some compensation if they don't pull the win off. So it's a creative way to head of disappointment. And hence the reason for this post today.
My kids were prompting me to get excited when Saints were 2-1 against Utd. 'Wouldn't get too excited' I said. 'Still normal time, then no doubt and extra 4 or 5 minutes of extra time'. It was at that point I reached for the iPhone and hedged my 'position'. Even if it was an 'emotional' one.
So this evening I am richer, if not really that much happier!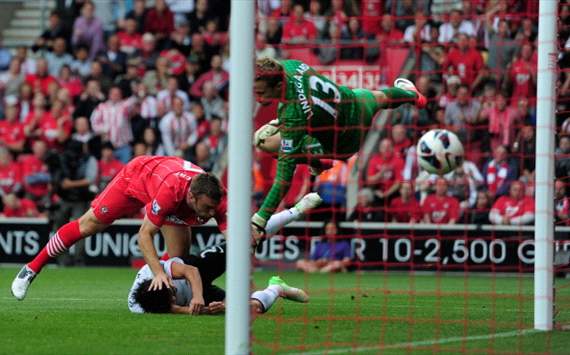 Category: Football / Soccer