One rule I have, is to favour positions where they is a psychological bias in the in the underlying event. What do I mean?
Take a look at the post I made about the Olympics not so long ago. This post documented home advantage bias with some academic evidence and concluded by explaining a number of reasons why this exists.
Imagine in a football match that we have a strong home team playing a weak away team and the away team score first. There will be significant impetus for the home team to equalise, especially if the goal is early the match. In a Tennis match imagine the strong favourite playing in front of a home crowd losses the first set, similar scenario.
This weekend we had two interesting manifestations of the phenomena. Kamui Kobayashi had his first Formula One podium in front of his home crowd at the Japanese Grand Prix and the first in three and bit years in Formula one. Meanwhile, compatriot, Kei Nishikori won the Japanese Open Tennis. OK, perhaps we could be recognising a link that doesn't exist?
The first fact is that home advantage in a proven phenomena. What you may have missed however is that value tends to only be created at certain points. You can't just back or trade anybody at home! The key to picking these sorts of winners is to focus on people who are high on confidence. When you get sportsmen who are confident anything is possible. That can lift their performance to a new level.
Typically somebody who is improving and yet to reach their peak is the best place to look for 'shock' winners that posses home advantage and that's exactly how those two 'winners' came about this weekend.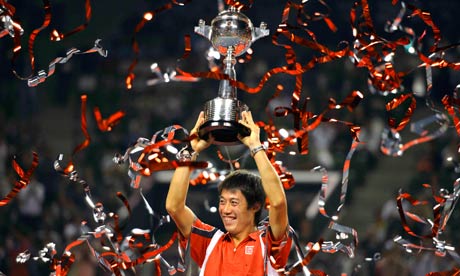 Category: Motor sport, Tennis, Trading strategies