Bet Angel Professional - Virtual Server
Bet Angel is now available on a VPS with an exclusive 'server' edition. With the server edition you run a specially modfied version of Bet Angel from a remote virtual server. A virtual server is a remote machine that you have exclusive access to via over internet. It is dedicated to you and you can run Bet Angel remotely on your server from any internet enabled device.

Key Benefits
High speed access from anywhere in the world
Massive speed improvement compared to a standard connection
Specially adapted version of Bet Angel Professional
Run Bet Angel from any internet enabled device, iphone, pda's
Use Bet Angel automatically while you are away from your computer
Significantly reduce local bandwidth overhead
Why use a Virtual Private Server or VPS?
Bet Angel on a VPS connection is much faster than your normal home or office connection. The servers are closer to Betfair and provide a super-fast connection via the latest fibre optic networks right on a main hub of the internet.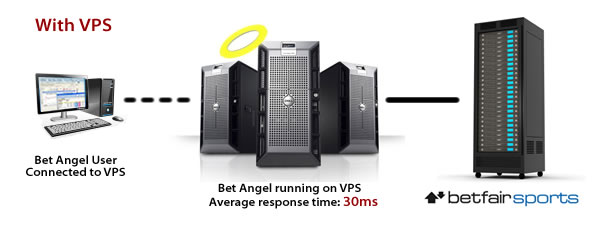 You can leave Bet Angel running automatically on the server, there is no need to have your computer on.
You can even access the server from anywhere in the world where you can get access to the internet. Via that connection you still get the same super-fast connection to Betfair via your VPS.
Bet Angel VPS
Recommended
*Important note:
The VPS does not include a Bet Angel Professional licence. Please see our buy now page for details of the packages available.
What to expect
Once we have received your order we will configure your server and install the files needed for you to run Bet Angel Professional Server Edition.
Once we have completed that we will send you an email containing the login details for your server and essentially hand it over to you.
What is different with Bet Angel Server Edition compared to the standard edition?
The server edition of Bet Angel Professional has been optimised to take advantage of a more reliable and stable connection and will work only with our servers. The application assumes a fast connection and has been modified to take advantage of that.
Hosted on a parent server with eight Xeon cores, 16GB RAM and a RAID-6 array of SAS disks, the Bet Angel VPS packages have a lot of power behind them in spite of the budget price.
Want to use on your iPhone or iPad?
You will need to use a remote client app for your iPhone or iPad to access your VPS. See this in action here.
We recommend iTap RDP mobile available on iTunes app store.
iTap iPhone or iPad remote client software
RDP mobile
How the VPS works
A VPS (Virtual Private Server) is a remote computer that you connect to using a remote desktop client on your computer. When connected it looks and feels like you are using the remote computer as normal.
The VPS is connected directly to Betfair in London. We have specially selected a location that will provide the fastest possible response times between our data centre and Betfair.
The link from the VPS to your computer is over your normal internet connection. We have no control over this part of the link and we recommend you ensure your connection is via a reliable supplier.
The only data carried between your computer and the VPS is keyboard, mouse and screen data. This is a lot less than the data that otherwise would be carried over the link when you connect to Betfair.
Any local connection issues will affect your connection to the VPS. However, this does not mean the VPS is not functioning. In the event of your local internet connection failing, it is important to understand that this does not mean the VPS has stopped working. It will still be running and Bet Angel will be linked to Betfair as normal.
User Guide
Professional Software
Key Features
Free Software
Remote Access
Get Help
Learn More
Follow Us