Bet Angel - Automated trading & betting
Automating your activity is often referred to as 'botting', the colloquial term for using a robot to perform activity on your behalf. As well as fully featured betting and trading tools, Bet Angel also includes many "bot" type features.
Using Automation with Bet Angel will save you time and improve your effectiveness in a market. You can standardise a strategy, test a theory, supplement your existing activity, participate at low risk on new markets, automate the entry or exit of your positions in a market and much, much more. You can even run different automated strategies on multiple markets all at the same time. The sky is the limit!
Switch on Bet Angel in the morning, start up your automation and return at the end of the day to see how you did. Better still, using Bet Angel's practice mode will enable you to test all your ideas, concepts and strategies without risking any of your money.
Guardian Automation – Create complex automation rules, apply to multiple markets simultaneously

Spreadsheet link – Quick and easy custom automation, requires use and knowledge of Excel

Simple Automation via 'Automation' tab – Simple triggered betting
Advanced Automation with Guardian
The new advanced automation with Bet Angel will allow complex automated betting. For example you could use this to back the favourite, or third favourite at 45 seconds before the off time. Or perhaps lay the draw in a soccer game before the off and automatically green up at half time. All this can happen fully automatically and quietly in the background, with different types of automation rules, on multiple markets, whatever you are doing on the main interface. This allows you to concentrate on other things while Bet Angel works away for you elsewhere or fully automatically through the day or overnight.
For example, you may want to back every favourite throughout the day as long as the price is below x. Or you may wish to LAY the 3rd favourite as long as the price is above y. Or you may wish to back all with a two tick offset 30 seconds before the off and then green up at 10 seconds. The advanced automation feature within Guardian will allow you to do all this.
Here are some of the advantages of using Automation with Bet Angel Guardian:
Background Automation – carry on as normal with your everyday trading
Timed bets – specify when you want to place your bets and how
Multiple embedded rules – build up complex triggers
Automatic greening in the background
Use different sets of automation rules for different markets simultaneously
Use for failsafe 'Take SP'
Multi market trading- Let Bet Angel automatically work on many markets in the background
Entry or exit – Create specific entry or exit points
Auto-greening – Take a profit the instant it is available
Import and Export rules files to share with other Bet Angel users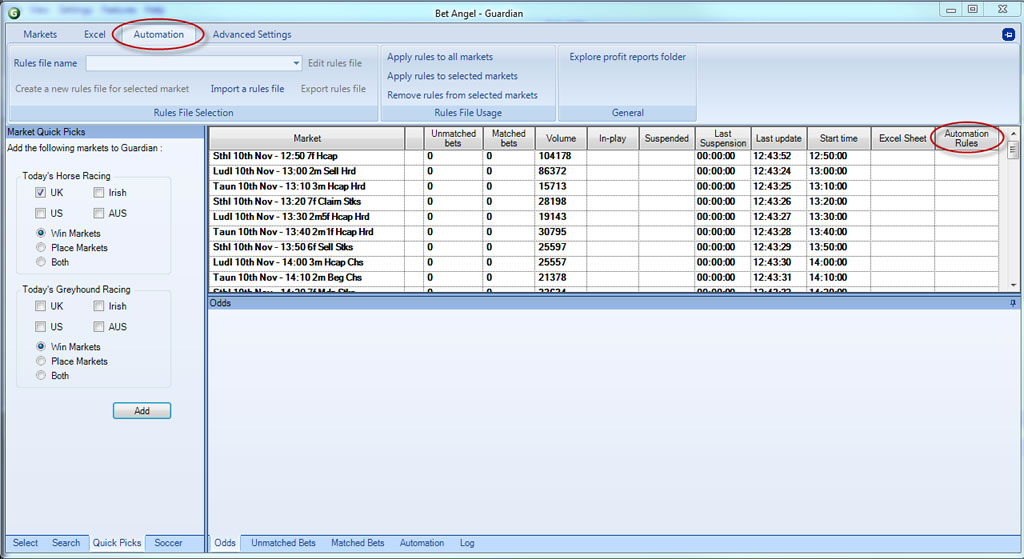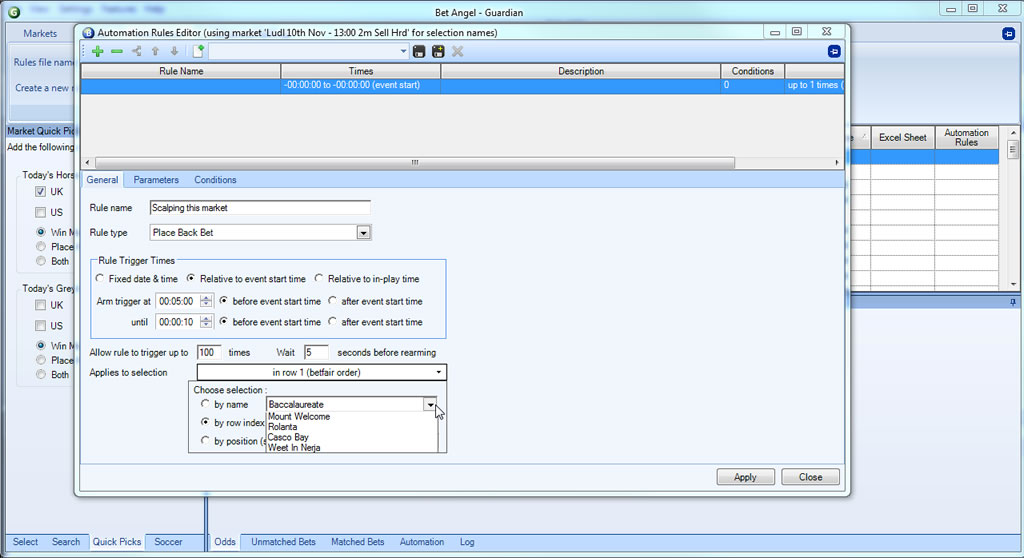 See the following videos on Bet Angel TV to learn how to use Automation within Guardian and to see automation in action:
Visit our user forum to see shared automation files that you can use for free.