Bet Angel was founded by Peter Webb, one of the world's most prominent and successful betting exchange experts and users. Peter was one of Betfair's very first clients way back in June 2000 and he is still going strong today, successfully risking millions on sports markets.
Peter remains the only person to have ever traded live in front of an audience. He stepped up to the challenge when he successfully demonstrated the concept of trading for Betfair at a number of high-profile exhibitions.
His research and ability is extensive and his pioneering approach is reflected not just as a large-scale user, but the knowledge and experience Peter has acquired is encapsulated in Bet Angel. Despite over two decades on the markets Peter continues to push forward at every opportunity exploring the markets, new areas and opportunities.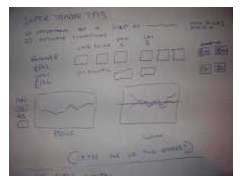 Bet Angel was one of the first serious attempts to bring financial market tools to betting markets.
Created before Betfair even had an API, Bet Angel's arrival in the market radically shaped the way people viewed and used betting exchanges. It took its influence from a mixture of financial markets, complex betting strategies, and brand-new concepts.
Bet Angel was responsible for a paradigm shift in the market and as a result, Bet Angel developed into the leading software in the market and one that has been regularly featured in the national and industry press.
Bet Angel was the first software to introduce a whole raft of features and opportunities. Streaming charting, technical indicators, fill or kill orders, stops, trailing stops, multi screen trading, connection modes, keep bets and many other features, all appeared on Bet Angel first. Before its arrival, advanced software tools and the associated strategies that went with them were virtually unheard of. By covering a number of aspects of the market, Bet Angel users were able to participate in ways that were previously unimaginable.
Through a process of constant improvement, professionalism and forward-thinking, Bet Angel continues to evolve. That has allowed its users to continue to move forward and out-compete their market rivals to achieve dominance in their chosen areas. Bet Angel customers now contribute billions in liquidity to betting exchanges each year and continue to gain share in what is a very competitive market.
Bet Angel is unique in that it was originally created as a non-commercial project for private use only. Its sole creation was for trading, rather than because of it! It now has a life of it's own thanks to the generous support and direction of its users.
Our core guiding principle is that it should remain that way. You will gain comfort from knowing that we are here using the very same product seven days a week to keep things moving forward. We are also unique in that the same "in house" team that created Bet Angel still exists today.
No part of Bet Angel or our customer database has ever been shared or outsourced to third parties. This adds security and piece of mind to your experience. As approved API vendors, based in the UK and subject to UK codes of conduct, we have safely navigated our customers through the markets since they were born.
If you want the best chance of succeeding, make sure you join the well-established, successful and secure path already set out by existing Bet Angel users.
Bet Angel's primary objective is to give you the best possible chance of making your trading or betting pay!  Bet Angel is software that sits between you and the betting exchange and it allows you to interact with the betting exchange in ways you perhaps wouldn't have considered possible. Not only does it contain very advanced, state of the art, trading tools; but a suite of advanced betting tools as well. Whatever you want to do Bet Angel can probably do it!
You can bet and trade manually or fully automatically, and get live scores, and live racecourse data on multiple markets simultaneously.
Trading on Betting Exchanges
Trading is considered the 'holy grail' of modern gambling markets. By trading rather than just backing or laying, sports and non sports fans can give themselves an excellent chance of profiting either with or without any underlying knowledge of the sports event. No longer does your betting become result dependant, trading offers you the chance to win regardless of the whoever wins! And now with Bet Angel you can learn how to trade.