Tennis Trader - The unique new trading tool

Traders have always wanted to know, "Where are the odds going and how much risk am I taking?" Now, thanks to Tennis Trader, you can have all the answers in real time right in front of you on your trading desk. No longer do you need to guess where the odds are going, Tennis Trader will tell you!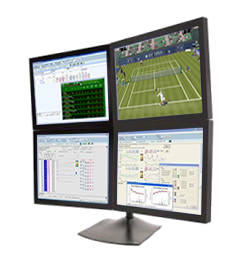 Using this unique software you can answer questions like: -
"Where are the key points in this match"
"What will happen to the odds if there is a break of serve?"
"How much up or downside risk do I have on this position?"
"What chance of winning the next game or set?"
"Where should I cut out my position?"
Tennis is one of the most popular trading markets on Betfair thanks to the large amounts of volatility that occur. This produces significant trading opportunities in a lot of matches. Catch a good move and you can make good money, but a wrong one can cost you a lot. Tennis Trader will transform your trading.
Best of all Tennis Trader is free with Bet Angel Professional.
See the software in action..
What is Tennis Trader?
Tennis trader is specialist software that has been specifically created to allow you to carefully manage your in-play positions in each market. It is a profiling tool that will let you know where the odds will be whatever happens next in the match, whoever wins the next point, game or set. Modelling Tennis odds is notoriously difficult thanks to the almost infinite variety of ways a match can end. Tennis trader solves that problem by bringing unique, easy to use but very powerful odds modelling functionality straight to your trading desk! If you bet or trade on then Tennis trader is the tool that will deliver you an edge.
Where can I get Tennis Trader?
Tennis Trader is part of Bet Angel Professional. Existing customers just need to download and install the latest version of Bet Angel Professional from our software download page.
New customers can choose an option for Bet Angel Professional below.
Tennis trader is FREE with any Bet Angel professional subscription.
Professional Software
Key Features
Free Software
Get Help
Learn More
Follow Us