Soccer Mystic
Soccer Mystic is the part of Bet Angel that takes trading and betting on soccer matches to a level never seen before, it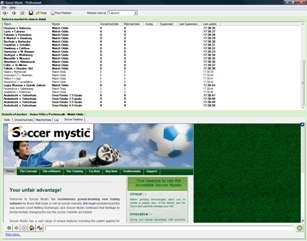 completely breaks the mould! It achieves this by offering a range of tools and features previously unavailable in the market. These will allow you to take a variety of positions and carefully manage your positions and risk in ways previously only understood and kept secret by the most serious players in the market.
Soccer Mystic was the first ever application designed specifically for Betfair soccer markets and is now integrated into Bet Angel Professional. It was created specifically for these markets in order to give you the best chance of profiting from one of the fastest growing markets on betting exchanges. If you bet or trade on soccer getting an edge in the market is critical, soccer mystic is the tool that will deliver an edge; soccer mystic is your unfair advantage!
Click on any of the following links to jump straight to a section you are interested in, or read through each one in sequence: -
How does it work?
Soccer Mystic is a wide and varied tool for use on Betfair. It can perform standard betting activity but it's main purpose is to offer a variety of carefully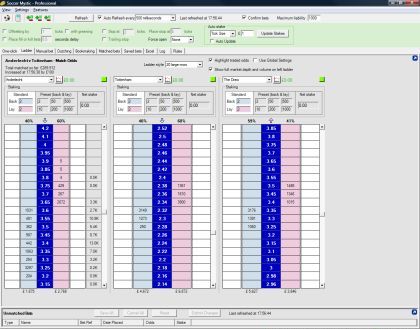 managed trading opportunities. By using some carefully thought out and executed strategies it is possible to profit from a soccer match in a number of ways.
Trading is considered the best way to achieve profitability on modern sports markets. Betting exchanges have changed the sphere of opportunity by allowing participants completely free access to a diverse range of opportunities with a minimun amount of risk and cost. By trading on a soccer match rather than betting on it, is it possible to profit whatever the final result of the match. You can also profit before a match has even started. By taking an intelligent approach to what positions you take and how, you can vastly improve your chance of profiting from soccer matches. To learn a lot more about how to trade on soccer matches visit the training section on the Soccer Mystic web site and learn from Peter Webb about what trading is and how to profit from it.

Key functionality: -
Soccer Mystic has three key areas to drive your profitability in soccer markets: -
Soccer Mystic Price Predictor
This amazing feature allows you to model a match before it has started and even in play. Learn what is likely to happen and its effect on your position in the market. Built in artificial intelligence means that Soccer Mystic is like a fine wine, it gets better with age.
Market selection and management
Quickly identify, store and retrieve all available markets and the most tradable markets. Trade all these markets simultaneously and keep and eye on the odds and your open positions on one screen.
Advanced trading and betting tools
Soccer Mystic contains many features. Utilise all the features in Soccer Mystic to place carefully constructed orders in the market maximising your potential to profit. Quickly assess your current positions and execute simple or complex opening and closing position in a flash. One click is all you need to enter or exit the market.
How can I benefit from using Soccer Mystic?
Imagine looking at a soccer match and knowing what will happen to the odds, how they will move and where to even before the match has started. Like Biff in Back to the future II, knowing the future gives you a fair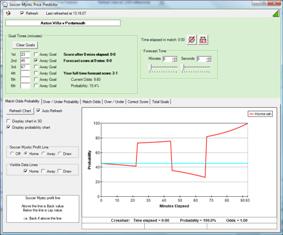 chance of profiting from it! Imagine being able to model each match with numerous scenarios to expertly manage your entry and exit into the market to minimise your risk and maximise your gains. Seeing the future sounds incredible, but there is no need to imagine when you have Soccer Mystic.
Once you have modelled the future, take advantage of it using the advanced betting and trading functions available in Soccer Mystic. By trading on a soccer match you can profit before a match has started and using trading its also possible to profit whoever wins or whoever fails to win regardless of if any goals are scored. Imagine being able to model each match with numerous scenarios to expertly manage your entry and exit into the market to minimise your risk and maximise your potential.
Seeing the future sounds incredible, but there is no need to imagine when you have Soccer Mystic!
Using Soccer mystic's price predictor you can answer questions such as: -

If I lay the draw, if the home team scores first what would be my likely profit?

If the away team score roughly how long would it take for my position to move into profit?

If the score is 2-0, what are the likely odds be if a goal is scored by either team in the next ten minutes?

If I back the home roughly how much profit will I make if they score first?

Roughly how long will it take for the price of a home win to move to 2.40?

How many goals will it take and when do they need to be scored so that the under 2.5 goal price is over 3's?
Using the price predictor you can answer all these questions and more. Once you have modelled the future take advantage of it using the trading and advanced betting functions available in Soccer Mystic.
Advanced position taking
Managing your risk is key to profiting in sports markets. You need to be able to construct orders that will not only deliver a particular reward if you win but also minimise your potential loss if you lose. Fortunately help is as hand, Soccer Mystic can place orders into the market with set liabilities or even specific profit and loss targets so you can ensure you are not risking too much or winning too little. Soccer mystic can do clever things such as place advanced positions in the market allowing you to achieve the following: -
"I want to win £100 if the score is 1-0, 1-1, 2-1, 1-2 or 0-1 but I am happy to lose £50 if the score is 0-2."
Being able to specify your profit and loss per selection not only allows you to be creative with your position taking, it allows you to effectively manage your risk too. Getting the balance right between how much you win and your potential losing positions is critical and Soccer Mystic allows you to achieve that.

Soccer Mystic - The system defeater
Ever bought some crazy system that promised the world and delivered nothing? Soccer mystic will completely blow those systems away by detailing what happens and when given your scenario.
Don't waste any more time or money on pointless systems, simply try out the ideas and thoughts yourself and see what happens. You will be able to carefully model any instructions or ideas you have and see what is likely to happen ahead of time. There is no need to spend months collecting data, paying a fortune for historical data or losing money by trying out ideas. Use Soccer Mystic to try multiple scenarios and payoffs to decide whether the strategies work and to what extent. Achieve risk free, zero cost, profiling with soccer mystic.
Professional Software
Key Features
Free Software
Get Help
Learn More
Follow Us