In-Play Trader
Trading in-running is a popular strategy and Bet Angel Professional for Betfair features a unique and easy to use tool to help you in these markets.
Seeing who is leading the market as opposed to the race itself can give a valuable insight regarding how the race is shaping up.
With the following features to make in-play trading a must have tool you will not find anywhere else:


Intuitive and easy to use interface designed especially for in-running markets
Trading range shown in easy to see format
Price or win % options for label
Choose to back or lay at best, 2nd best or 3rd best market prices
Unique tool for Bet Angel users
Single Click betting to either back or lay a runner directly via the interface

Not only can you see who is leading in the markets in terms of odds, being able to place bets directly into the market by clicking with the mouse makes trading these markets easier and quicker than ever before.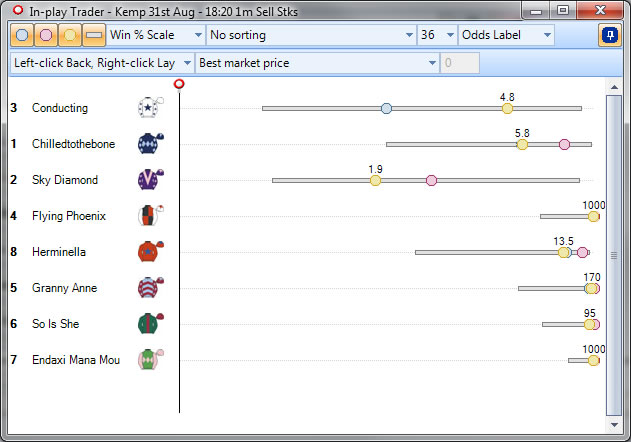 The In-Play Trader Interface
Pre-Off
Click for larger image

IN-PLAY
Click for larger image

Race Over
Click for larger image
Video Tutorials
You can watch the race unfold in real time in a intuitive graph and just point and click with your mouse when you want to place a back or lay bet. This video describes the key functions and usage of this tool.
A short video using small stakes where we watch in-play trader plot the progress of a race and place a bet on the horse that emerges from the field to win.
Professional Software
Key Features
Free Software
Get Help
Learn More
Follow Us