Follow these steps in order to associate your Betfair account with Bet Angel.
Note that registration activates your account and not the software. You can download and install the software on any computer but registration is required only once. Your subscription starts from the point of registration not from when you purchase, download or install the software
Double click on the Bet Angel icon on your desktop.
You will see the login dialogue box. Click on the link marked 'Register Bet Angel using serial number….'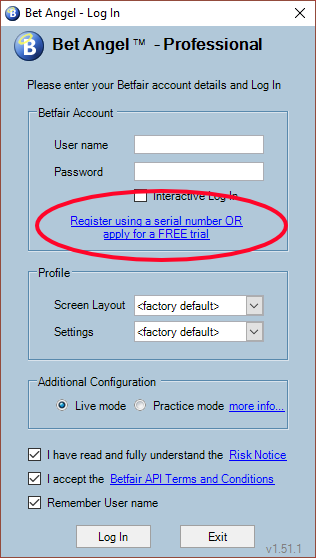 Step 3 - Free Trial or Skip to Step 4 if you have purchased Bet Angel
The Free Trial does not require a serial number and instead you will be activated immediately upon entering your Betfair username and password.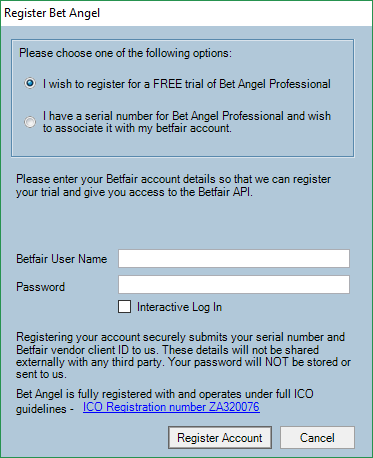 If you have purchased Bet Angel or have the half price trial you will be sent a serial number via email. Once you have installed Bet Angel Professional follow these instructions to activate your account.
Step 4 - Purchased serial number
Click on 'I have purchased a Bet Angel Professional serial number……' You will now see a registration box in which you must enter the serial number sent to you along with the username of the Betfair account you wish to use with the software. A valid email address is also required.
Once you have entered your details click on the 'Register Account' button. Your account access will be granted immediately and a message saying so will appear on the screen.
Go back to the login box and enter your Betfair username and password in the boxes. Click on 'Log In'. You can now enjoy using Bet Angel Professional.