Take Bet Angel to the next level with Excel
Microsoft Excel Integration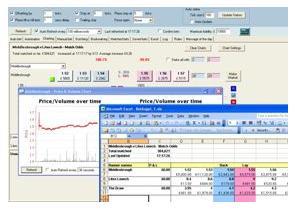 If you have Microsoft Excel installed on your computer and you are familiar with Excel functions and Excel VBA then get ready to take Bet Angel to the next level with the Excel integration feature.
By linking one of the supplied blank template spreadsheets to Bet Angel you will be able to manipulate the data in any sports market and produce triggers, charts and more all designed to your own specifications.
The possibilities are almost endless from simple single triggered bet spreadsheets to fully automated, unattended* betting spreadsheets already in existance.
Set your own triggers and create your own betting bot. If Bet Angel doesn't do exactly what you want it to today then you will probably be able to do it using Excel. From simple BACK or LAY commands to sophisticated code to bet under whatever conditions you set.
You can:
Automate your betting
Write sophisticated triggers to place your bets
Test your strategies
Complete unattended trading
Link to multiple markets at the same time via Guardian
Dynamically link your stake level to your account balance
And much more
*Unattended betting is not recommended without exhaustive testing. Microsoft Excel 2003 or later required. Microsoft Excel is not included with Bet Angel Professional.
Professional Software
Key Features
Free Software
Get Help
Learn More
Follow Us